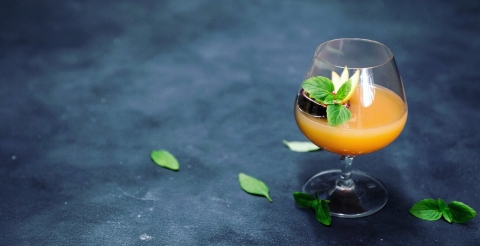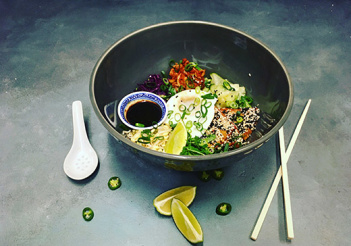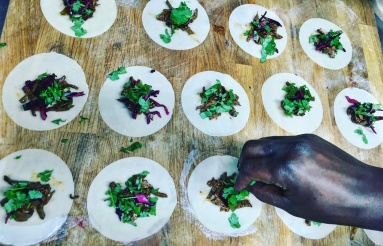 THE STEAMER
(eveningkitchen)
DUMPLINGS
4 pcs, 90 kr / + 1 pcs, 20 kr
Korean Dumplings
With red cabbage, soyprotein, gochujang,
ginger, hoisin, cilantro.

"Our homemade dumplings are served
as a starter and includes soja and our
papaya dumpling sauce."
SIDES
Steamed Edamame, 45 kr
KImchi, 15 kr
Oi Muchim Cucumber, 30 kr

"Dishes from our steamer is eaten best freshly made and is only available for seat in."
BAO BUNS
2 BAO BUNS, 205 kr
+ 1 BAO, 95 kr

Two steamed bao buns with smokey yakisoba seitan, mushroom salsa, cilantro, spring onions, pepper and fennel relish and lime. Served with oi muchim cucumber and apple mayo.
Dumpling and Bao contains gluten. Flavours are changing with the season as well with todays mood!
THE STREET
(eveningkitchen)
TACOS
Tropical Taco
, 159 kr
Three corn tortillas with
refried black beans in smokey BBQ sauce. With avocadoaioli, pineapple, onion pickles, mangosalsa, lime and cilantro.
TAKE AWAY, 139kr
Vietnamese street taco
, 159 kr
Three corn tortillas with
jackfruit in vietnamese
lemongrass seasoning. Served
with asian slaw, radish,
fresh cilantro, lime, black
sesam and nouc cham sauce.
TAKE AWAY 139kr!
SIDES
Sweet Potatoe Wedges
with Avocadoaioli
, 65 kr
TAKE AWAY, 55kr
Blue Corn Nachos with anchosalsa
and salsa verde
, 60 kr
TAKE AWAY, 50kr
Dip N' flip
, 169 kr
With oi muchim cucumber, summer rolls, seitan skewers, vinegar sauce, pak soi salad, kimchi and gyoza chips.
"Our Dip ´n flip is recommended as a starter for two and is only available for seat in."
MAINS
Jamaican Jerk Skewers
, 189 kr
Grilled veggie mutton in jamaican jerk seasoning with lime and orange. Served with melon salad, mango sauce, salad, lime, cilantro and rice & peas.
TAKE AWAY, 169kr
Kimchi Fried Rice
, 205 kr
With gochujang seitan, pak soi, rosewater daikon, sweet miso cream, sesam crema, fresh lime and cilantro.
TAKE AWAY, 185kr
Korean Street Bowl
, 205 kr
Our classic bowl with rice in seasoning,kimchi, red cabbage, salad, sprouts, ginger/garlic
portabello, lime shitake mushroom and cilantro.
TAKE AWAY, 185kr